Adrienne Does Faces
Clinical Skin Care Services
Professional Make Up Artist
Microdermabrasion
Adrienne Maas Skin Care is located in the Southern California Temecula Wine Country. Adrienne is a clinical aesthetician who offers a variety of skin services and products that refresh, rejuvenate, and beautify your skin.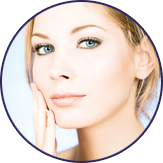 Facials & Peels
Facials thoroughly cleanse your face and remove the top dead layers of the skin. The result is a radiant and beautiful skin. Facials can also help treat acne and restore skin color and tone. Adrienne offers a variety of facials and peels to satisfy your particular needs.
Microdermabrasion
Microdermabrasion is a non-abrasive,facial procedure that delivers fast results in treating the face, neck & décolletage. Being a mechanical exfoliation, dead and dull surface layers of the skin slough off, stimulating an increase in collagen production and rejuvenation.
Clayton Shagal
Clayton Shagal gels, extracts, or creams nourish your skin with 99% Pure Collagen to rejuvenate damaged skin, smooth out fine lines and winkles and even treat acne! You can purchase Clayton Shagal products on this website
Call or Visit Adrienne
For any questions you might have about our skin care services or Clayton Shagal products, call or email Adrienne. To schedule an appointment, call. To visit Adrienne, click the button below for an address and a map.